Interview, 16 June 2016
Often mentioned as one of the more exciting American painters to emerge over the last decade, Ted Gahl has managed to establish himself through years of a consistent workflow and by having the courage to evolve creatively.
Even though Connecticut native Ted Gahl is only still in his mid-thirties, he is no newcomer on the American art scene.

With numerous solo and group exhibits around the country and abroad under his belt, Gahl has made a name for himself amongst aficionados and collectors alike.

Working out of his studio in Litchfield, Connecticut, Ted Gahl is currently preparing for his first European solo show at Galleri Jacob Bjørn in Aarhus, Denmark this coming fall and has recently had a new book published together with fellow artist Katherine Bradford.

After spending most of his life on the east coast, alternating between the frantic pulse of New York City and the quiet comfort of rural Connecticut, Ted Gahl will move on towards new pastures when he relocates to California after the summer.

We caught up with the artist to find out what the role of the modern artist is in today's society, where he draws inspiration from and what he has learned over the years of evolving as a fine artist.
Where did you grow up and what was your childhood like?
– I grew up in rural northwest Connecticut. I'm an only child so I think I gravitated towards art at an early age, being that it's an activity you can kind of get lost in on your own. My dad is an immigrant from post-war Germany and he came to the US in the 50's when he was about nine. My mom is from a big family of Texans that relocated to Connecticut. I grew up with two very different viewpoints and I think that made me interested in a wide array of art and influences.
Can you draw up a brief timeline of your artistic history up until the point where you decided to pursue art as a career path?
– I was always drawing, that was something I was constantly doing for as long as I can remember. From there it went to painting. It's funny, the other day I was actually looking at a painting I did of a giant tortoise that I painted on a piece of stone. I made it when I was maybe 7, and my parents let me take these after school lessons with this great older painter. I then ended up getting really into ceramics, spinning on the wheel. It's strange, in this country, I feel like there's such an emphasis on the arts when you are either very young or very old. You grow up painting, drawing, and making sculpture in your formative years, and then, when you are very old, it kind of comes full circle, as you see a lot of arts and crafts as a time occupier in later life. In high school, especially public school, the arts were kind of vacant for me. It made me realize that in the United States, art is still looked at by the majority of the country as a hobby. I don't think it has the historical significance or broad importance and appeal here that it has in other parts of the world. I basically spent my high school years just drawing in class non-stop, making comics of my friends in different situations. This was what eventually got me into Pratt Institute in New York.

– When I was there, I was very naïve to the idea of getting out of school and being a fine artist. I figured I needed to get an actual job, so I ended up in the Communications Design department, which was this umbrella program that encompassed art direction, graphic design, and illustration. It was great because I really got a handle on a broad range of skills, like Photoshop, digital painting, screen printing, etc. I basically made all my painting heavy stuff at home in my apartment on the side and took as many oil painting classes as I could next to my mandatory classes. All that helps me today, whether it's cleaning up photos or mocking up shows, to writing about my own work or designing a book. By my last semester at Pratt, I was taking a class with an artist named Mike Womack. He really opened my eyes to the gallery system, the way things worked in New York when it came to contemporary painting and sculpture, and that was exciting. It made me realize that I didn't want to sit behind a computer, designing banner ads for eight hours a day.
After I graduated, I watched as a lot of my peers took jobs in New York right away, most of them in graphic design. I felt like this wasn't for me, so I returned to Connecticut. I got a small apartment on the edge of a nature preserve, and started making a portfolio for graduate school.
I ended up getting into Rhode Island School of Design, and it was a great experience. After two years of working with an amazing faculty, I moved back to New York and worked for the painter Eddie Martinez. This was like a whole other kind of education, watching how a studio operates, how exhibitions happen. I started to show a bit, and had my first solo show by the end of 2011 at Halsey McKay. I started to sell some paintings, and realized this was what I wanted to do, and that this was the community I wanted to be a part of.
What is the role of the artist in today's society, in your opinion?
– I can't speak for everybody, but I think that being a painter is about independence. Life is so complicated in this timeframe, with how expensive everything is, how overpopulated every city feels. Every year, so many talented people emerge from great schools, whether it's for business, art, etc. Everyone is vying for a spot, for attention in their field. Art, and making art, has in the last 20 or so years become a very professional enterprise. This isn't to say that art isn't still being made that challenges the status quo, but it certainly doesn't seem to be as much of a statement as it used to be.
So to me, it's important to try and make this path work, because it allows me to make my own schedule, and to travel and meet other artists. Having this time and flexibility, to me, is the ultimate luxury. Bypassing the 9-5, not answering to a boss, and making the best work you can in the timeframe you are in; that is the role, or the shoes, I hope to fill.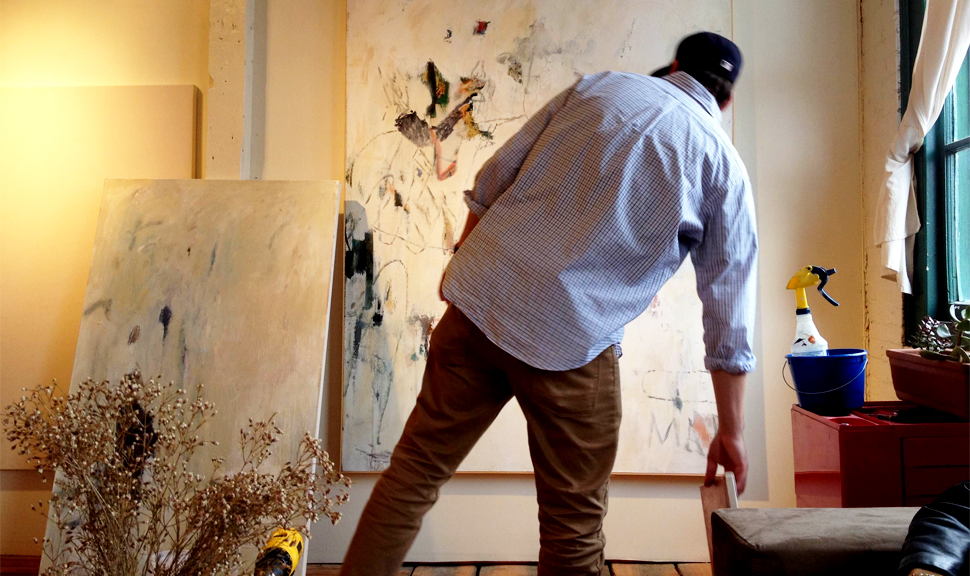 As a creative, self-doubt is always prevalent and the issue of financial instability always a factor. Was there ever a time when you were really on the verge of packing it in and pursuing a more conventional career?
– Being a freelancer, working for yourself, you have to know going in that it is a total gamble. I remember many times where I hit lows both creatively and financially. At one point, I had about $200 dollars to my name, and I ended up getting a job for an auto scrapyard. I spent every day driving oil-covered engines around the tri-state area. I worked with guys who were war veterans, some had done jail time, and they all had stories. While I was in that situation, it felt like a dead end. But later a lot of those experiences ended up in my work. It came through in the titles of paintings, in the ideas for works and ideas for materials.
The comedian Louis CK has a great bit about the idea of abandoning your dream and getting a "normal" job. He says that it's great advice, but the problem is, when you have literally poured all of your time and energy into your craft for ten, fifteen, twenty years, it leaves you with very few options and very little experience in other fields.
You have worked both in New York City and in Connecticut where you currently have your base, what are the pros and cons about working in the city and in the country?
– I've learned that I can basically work anywhere. I made the work for my first New York solo show in a space in Brooklyn that was the size of a closet. New York is great for getting feedback, having visits and being directly tapped into a community. I think the major downside of New York, now more than ever, is obviously the money issue. At a certain point as an artist, you may want to strive to make larger, more elaborate works. New York is pretty unforgiving in this sense, as workspace in the city seems to be the most expensive in the United States from what I've gathered. Unless you are selling work for big numbers or have some sort of financial backing situation, it can make it really hard to be ambitious or get to the next level. Getting a spot out in the country was one of the smartest decisions I've ever made. The low financial overhead and large space has made it possible for me to work serially and on scales that anywhere else would be pretty tough. In the last year I think maybe two people have knocked on my door. That kind of quiet allows for a kind of unparalleled focus. At the same time, that can also be a disadvantage. Being just under two hours north of Manhattan can at times feel like I'm in the Midwest. The important thing for me is to look for balance, to get work done in the studio, and get to New York to see the shows and peers that I care about.
Ironically, I am giving up all these spaces and moving to Los Angeles this summer.
"Kids today are glued to phones, IPads or video game consoles. I see it at family gatherings, in airports, at the supermarket. Maybe the fact that we are still making these things on pieces of fabric and paper is more of a statement on current society than I thought."
Can you give us an idea of how your style has evolved over the years? Have you always painted abstract pieces or did you start out doing more figurative work?
– I think everything I've ever made is rooted in figuration. You grow up drawing, and you're looking around at your parents, at people. I would draw the postman, policeman, cars, planes, things that were tangible. As I started to make paintings and started showing paintings, I became increasingly interested in the line between figuration and abstraction. I like using figurative drawings as templates or vehicles for abstraction. Painting becomes a real life Photoshop where you can bend, add, or erase on the fly. Some works start as blatantly figurative images and end up very obscured. Other works start as very expressionist gestures and end up more figurative than I expected.
I also have a tendency to jump around stylistically. The last show I did opened a few weeks ago at Freddy in upstate New York, a two-person show with one of my favorite contemporary painters, Bill Adams. The work I contributed consisted of small, intimate oil paintings of candles that border on a trompe l'oeil appearance.
Some galleries and artists have a problem with an approach that explores making work in different modes. My feeling is that I didn't become a painter to make one single product, over and over, which is how some painters choose to work. I also feel like a lot of my favorite artists, like Mike Kelley or Jim Shaw, have worked in a myriad of styles for decades, and that excites me and shows me that there are literally no rules to any of this.
Do you doodle your ideas on a piece of paper when they appear in your head or do you contain them in your mind until you reach your studio?
– I still make tons of drawings everyday. I make drawings on napkins out at the bar, at restaurants, on my phone with a paint program, on my Ipad with a stylus. I come up with ideas at night while in bed and write them down in the notes section on my phone. Sometimes they aren't even ideas for works but just combinations of words or things to look up, and these ideas become image titles or the bones of a show.
What influences and inspires you?
– Painting, past and present. I have an obvious bias towards painting, but I like all kinds of art. I watch a lot of movies and I listen to a lot of music, the studio is never quiet. I enjoy driving a lot, and find it kind of meditative. When I was younger, I was labeled as the guy who would be a New Yorker or a city guy, but more and more, I feel like I spend a lot of my time in the woods. Hopefully I will get to spend more time exploring the desert when I get out to California.
"My favorite artists, like Mike Kelley or Jim Shaw, have worked in a myriad of styles for decades, and that excites me and shows me that there are literally no rules to any of this."
In my mind, your style is very decorative and pleasing on the eye, would you take that as an insult or a compliment?
– I don't find that insulting at all. Matisse is one of the most revered painters in history and I don't think those paintings can get any more decorative or pleasing. At the same time, art is beyond subjective. A lot of Francis Bacon paintings are dark, even scary, but they look great on a wall. Everybody has a different take on an object, and I think that keeps it all fascinating.
How much does your work reflect the current state of society?
– I don't think I make art that is taking on politics or major world issues, but I am making art objects in 2016 and I think that alone makes it current, and part of society at large. I'm not trying to reinvent the wheel, but maybe that's my input in regards to the current state of society. I love painting and drawing because it is so analog, it's stubborn. Making these objects, and spending so much time on them, is almost a refusal to the norms of today's society. Where I'm from in Connecticut, I have been watching a lot of businesses close after many years. The local bowling alley closed after 49 years, all because sales kept dipping year after year. This was a place where I went to countless birthday parties when I was younger and it was a staple in the community. These closures are becoming forced by the fact that kids don't go out like they used to. Kids today are glued to phones, IPads or video game consoles. I see it at family gatherings, in airports, at the supermarket. Maybe the fact that we are still making these things on pieces of fabric and paper is more of a statement on current society than I thought.
What do you have coming up in the foreseeable future?
– I just had a book published by HASSLA in New York alongside friend and painter Katherine Bradford. I am also working towards my first European solo show, which will open this fall at Galleri Jacob Bjørn in Denmark. I'll be showing some of the largest works I've ever made, along with smaller framed works, both ranges of works that I have not exhibited much of in the past. I'm excited for the show, but terrified of the plane flight…


For more please visit:
www.tedgahl.com
Instagram: @tedgahl