Romain Thiery

,

Photographer/Pianist
Interview, 10 July 2018
What is it about the piano that evokes such nostalgia and strong emotions within us, even after centuries as a household instrument?
French photographer and classical pianist Romain Thiery believes the piano to be, in his own words, "deeply rooted in the depths of our culture" and sought to explore the instrument from an original angle.


He made it his life's mission to combine his two biggest passions and set out to find abandoned houses and castles around Europe where old pianos had been left behind. His modus operandi would be to scout buildings with abandoned and often broken pianos inside and document them, standing like derelict yet graceful centerpieces within equally derelict interiors, ravaged by the merciless passing of time.

The series that emerged from Thiery's work is called "Requiem pour pianos" and has catapulted the photographers name into notoriety among tastemakers and art connoisseurs around the world.

We engaged in conversation with the 30-year-old to find out why the piano reigns supreme as the most noble instrument in history, what prompted him to pursue photography as opposed to playing the piano professionally – and how the passing of time has a tendency to create its own version of beauty in places left untouched by man.
Who are you and what do you do?
– My name is Romain Thiery, a 30-year-old French pianist and professional photographer specializing in abandoned heritage. I am a native of Perigord, a French region rich in history and filled with derelict wonders. As a passionate person, I am fortunate to be able to meet the two artistic worlds that are closest to my heart: photography and pianos. Today I live and work near Montpellier in the south of France.
"Even covered in thick dust, the piano never ceases to impose its nobility and respect"
I hear it was your mother who started the project of finding abandoned places and taking pictures of them, does photography run in the family?
– From a very young age I always saw my mother taking pictures and she always brought me with her, educating me in how to use a camera. After my studies, I decided to move away for one year travelling in Asia. India was a revelation for me, I loved taking pictures of this agitation, the colors, the atmosphere and special architecture. This was when I really started to understand the art of photography. When I came back to France, my mother had started a project which focused on shooting the ruins and derelict houses in my native region. This is where it all started when I decided to carry on what my mother had started and help her document this forgotten heritage.
Can you tell us about the moment you decided to pursue photography professionally?
– In the beginning, photography was purely a hobby but I decided to use this medium as an artist very early on. I was fortunate to work with professional photographers who helped me get started in 2009 and to set up some exhibitions to show my own work. From then on it has been my primary occupation.
Your series "Requiem Pour Pianos" is a powerful documentary of moments passed, why did you decide on this specific subject?
– In 2014, in an abandoned castle in the southwest of France, I found a forgotten piano one day. Few things had resisted the attacks of time and looters, except for that beautiful instrument. Impressive and at the same time incongruous, it was still there. In a place where grace, luxury and a respected novelty used to reign. My photographs aim to show this arrogant beauty that relegates everything else to the background.
Since that day, I knew my artistic life would change. The places I am looking for have to be at the crossroads of my artistic worlds: piano and photography. This is the culmination of my art; my two passions are then united in the same feeling. It's an exaltation of my artist life. I am a real passionate person and emotions completely take over whenever I discover an abandoned piano.
You are also a classically trained pianist, how much time do you make for practicing and playing these days?
– I started playing the piano at the age of 5 and attended music school during 15 years in France. Piano is a big part of my life, I play every day on my grand piano in my house.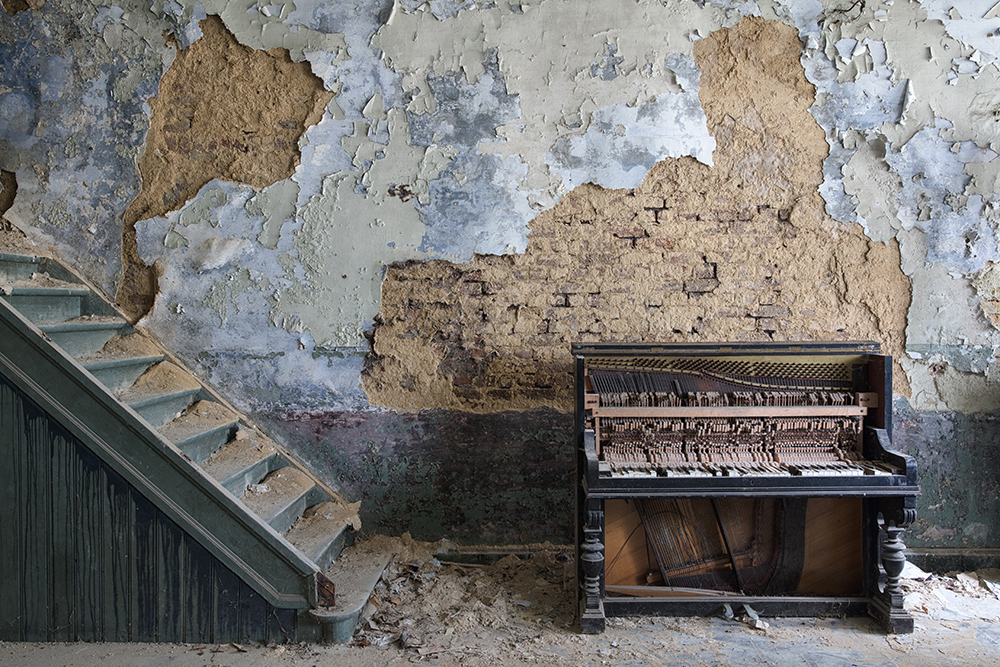 What is it about the piano that sets it apart from other musical instruments, in your opinion?
– I think the piano is an instrument that everybody loves. Even if some people don't know how to play, we always try a piano when we enter a room where there is one. It must be said that musical instruments are, for us, forever beautiful and almost deified. Thus, even when time damages them, we are attached to them. We respect them.
But the piano is more than that. It is a reassuring instrument with its natural elegance. Even covered in thick dust it never ceases to impose its nobility and respect. This greatness is rooted in the depths of our culture.
You travelled extensively through Europe for this project; how did you go about scouting the locations?
– It wasn't an easy task. First, I used Google Earth to find abandoned places, even though I wasn't sure I would find pianos in any of them. But my research focused on castles and cultural buildings, where families that used to inhabit them would often own a piano. I also looked for old photos as well to check if there were pianos there. I was lucky to have friends in the rest of the world who helped me a lot. I visited several countries like France, Spain, Italy, Belgium, Germany, Poland, Ukraine, Bulgaria, Romania, Czech Republic and visited more than 150 places since the start in 2009. I shot more than 50 different pianos for my "requiem pour pianos" series.
"One of my most fervent wishes is to keep the traces of those who are forgotten, just before time made them invisible"
You also have a few other photo series containing abandoned houses. I get the feeling that you are fascinated with places that were once full of life, but where time suddenly stood still. As if somebody pressed pause on the passing of time. Is that a fair observation of your motives?
– Since my project with "Requiem pour pianos", I fell in love with heritage photography and I decided to travel and find other places with a particular architecture and atmosphere. My aim was to capture the atmosphere, space, light and textures they are filled with. The aesthetics and architecture of the places are one of the most important things to me. They only exist through the traces of my photographs. One of my most fervent wishes is to keep the traces of those who are forgotten, just before time made them invisible. I really like the old villas, the castles and the ruined mansions that are passive witnesses of a past elegance. The eye of my device is then universal. It will offer a forgotten, majestic and renewed vision of these homes that are now lifeless.
What can we expect next from you?
– My « Requiem pour pianos » series is still in progress. I am working with associations in France helping me to find new forgotten pianos especially in France, Poland, and Germany. I am still working on finding these abandoned places but I am venturing further outside of Europe at the moment. Since a few months back I started a new series, still focusing on piano and heritage, but with a different point of view. This project will be available online once it becomes a little more structured.


For more please visit:
http://www.romainthiery.fr