Rob Dickinson

,

CEO & Founder of Singer Vehicle Design
Interview, 13 September 2020
For 15 years, Rob Dickinson toured the world as the front man of British rock band Catherine Wheel and later on as a solo artist. Today, he spends his days restoring bespoke Porsche 911's as the Creative Director and CEO of Singer Vehicle Design in the sunny parts of southern California.
Throughout Dickinson's life, music has come and gone but cars have always remained a constant and immortal passion. For the average person, his resume seems like the ultimate boyhood dream. Combining his two passions with a sharp eye for detail and duty to deliver high quality products has enabled the Norfolk, Great Britain native to have successful careers in both fields. Two fields that both require equal amount of time, dedication, teamwork and love for the end product in order to evoke the intended emotions with the consumer.

The Porsche 911 is arguably the most classic and talked about design in automotive history and is also a huge inspiration for us car lovers at CQP. The fact that Rob Dickinson is a connoisseur beyond the ordinary on the subject of the 911 makes him a serious person of interest for us and we decided to check in on how he views his life of adhering to his passions, creating beautiful things and the importance of surrounding yourself with competent people.
What was your designer background like?
– I studied general art design at Great Yarmouth Art College when I was 18, a general course in graphics, life drawing and sculpture. Then I applied for a place at a design course at Coventry University. I did two years of a four-year course there and then went to work for Lotus. Peter Stevens (the man behind the McLaren F1, Lotus Esprit etc.) gave me a job there but I suddenly decided I didn't want to be a car designer any more. I had picked up the guitar by then and that was when I left the design world.
The 911 is one of the most iconic cars in history, inspiring designers all over the world since the day it was unveiled. What is it about the 911 design that makes it so timeless and able to stay relevant?
– The fact that it has endured, I think, and the fact that Porsche has persistently and consistently developed it incrementally over all these years means that it has had a lot of time to seep into peoples affections. I think it's an honest car, it betrays its layout and the way it looks, doesn't try to hide the fact that it's a rear engine car or that the way the car looks is very faithful, which is what Ferdinand Porsche always said: "beauty comes from functionality, rather than embellishment". I think the 911 in itself is true to that and maybe on a subconscious level people are attracted to it because it is authentic. You believe it and trust it. I think that's a big thing in design, on an emotional level.
"If you are determined you will find people to help you express yourself, and I've certainly been lucky in that"
What's your personal historic relationship to the Porsche 911?
– It's a car that's… it's the most important car in the world to me, as it is to a lot of people. So it has meant a lot to me for the better part of 40 years and I've been obsessed with it since the age of 5.
Give us a brief timeline of what happens, from when you first get a car into the shop to when it's delivered to a customer. And how many people are in your team?
– The car is assembled by our own team that consists of about 30 people at our facility. The first three months of the process are done by outside partners, which is the stripping of the car, media blasting, metal fabrication, carbon fiber application, paint preparation, paint and then the car is delivered to our facility after about four months of the process and we have it for another three months to assemble and test it before the car is delivered.
"Car designers are often constrained by the need to be different all the time, that's the nature of the business"
When you finish a car, what sort of tests do you put her through prior to delivery?
– Basic shakedown testing. The engine is re-dyno tested and re-calibrated. The suspension is calibrated and aligned; and then there's just anywhere between 500 and 1000 miles of testing to be sure the car is operating properly. Each car gets tested on the track at full speed and full performance, as well as tested on the street for street driving purposes.
My guess is that your customers are pretty well informed and specific when it comes to detail and the cars in general. Does that bring an extra incentive to deliver?
– Of course, yes. These clients expect the best in everything they have, it keeps us on our game, keeps us moving forward and constantly striving to make our services more focused and more effective in making these cars as spectacular as they can be. We don't pretend they are perfect, but our quest for perfection never really ends.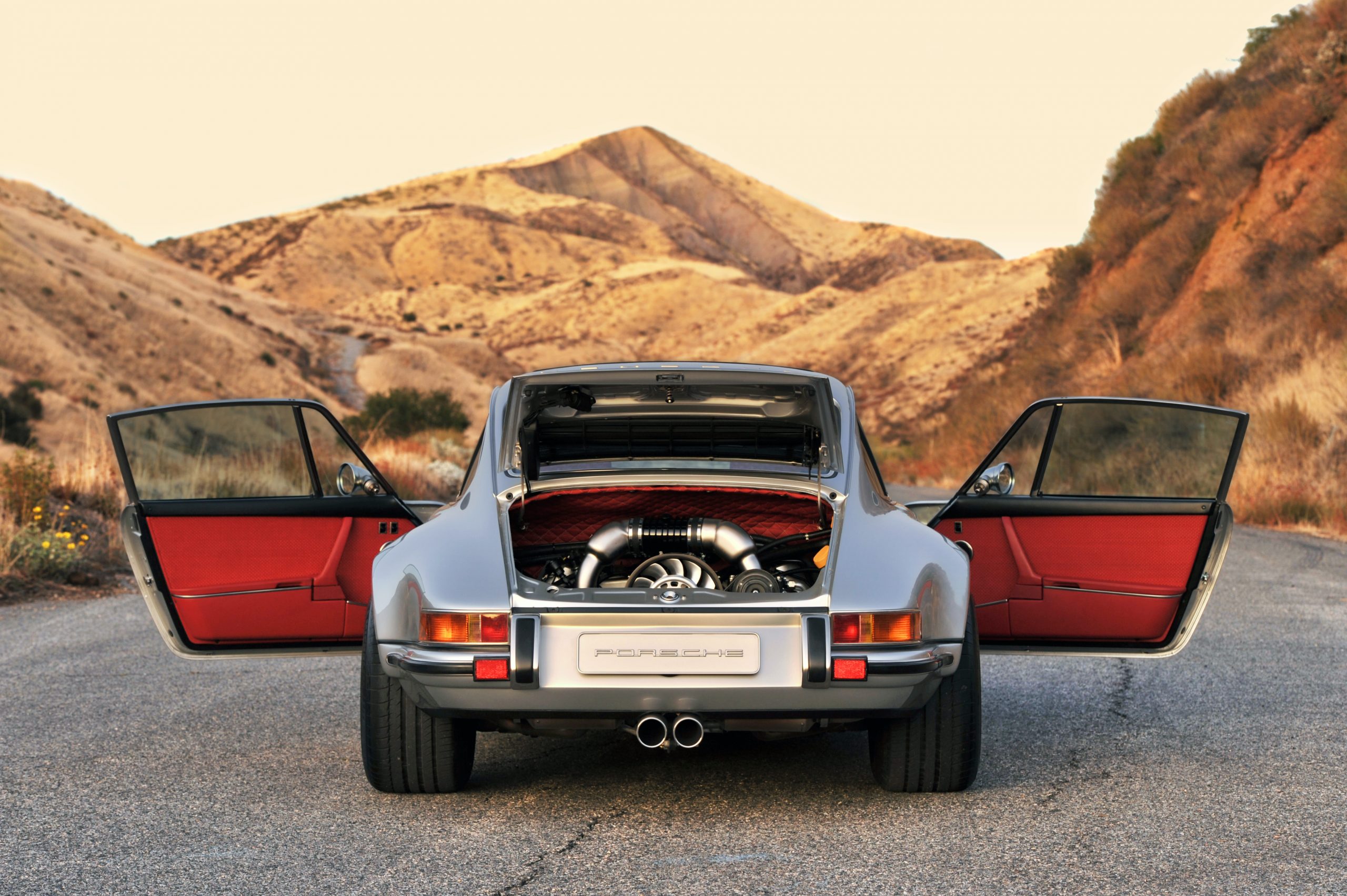 "Southern California has this amazing heartland of artisanship and engineering skills that is almost unequalled on the planet"
How does being based in California help Singer Vehicles daily routine?
– It doesn't just help it. It's essential for it. I don't think I would have had the idea to launch Singer had I not been living in California, nor would we be able to do the work we do at Singer if we were not in California.

– California has inspired the ambition behind Singer and it has absolutely given us all our key suppliers and vendors within a 50-mile radius of Los Angeles. Southern California has this amazing heartland of artisanship and engineering skills that is almost unequalled on the planet, or anywhere really.
What's your take on contemporary car design? Are there any specific examples that have fancied in the last couple of years?
– I'm always fascinated by modern car design; it's something I've always taken a keen interest in. Car designers are often constrained by the need to be different all the time, that's the nature of the business. Freshness and always "new, new, new". That can be a good thing but it can also be a bad thing for designers.

– They're constantly striving to change for the sake of change and that isn't often the best inspiration for any designer. Changing because we have to, because three years are up, that's a challenge for any creative person, but some people do it far better than others of course and there are some spectacular modern, contemporary designs. I think Marek Reichman and Henrik Fisker's Aston Martins over the past 15 years have been pretty wonderful looking cars.
With all the work you put into Singer, how much time do you have left for playing music?
– Zero.
Being a musician, how much effort goes into creating the perfect engine sound for the 911?
– A lot…
Successful careers in both music and customizing sports cars, it certainly seems like your passions steer you through life. Is it the rebel in you that refuses to conform?
– (Laughs) I don't know – I wouldn't call it being a 'rebel'. I think I've just been blessed by surrounding myself with people that have allowed me to indulge myself, whether it's music or cars, and I wouldn't call it "rebellious," it's just deep within me to do this, it's a web of self-expression and I think if you are determined you will find people to help you express yourself, and I've certainly been lucky in that.
Would it be fair to assume that you are a happy man?
– Happy? I'm content. I'm very, very content, and I feel very, very lucky…
* This piece was originally published in March 2015
For more information please visit:
www.singervehicledesign.com