Reima Nevalainen

,

Painter
Interview, 6 May 2020
Already regarded as one of Finland's most promising painters, Reima Nevalainen is now closing in on a wider audience.


Employing a mixed media technique, using acrylic paint, collage, pastel and sand, fine artist Reima Nevalainen creates paintings that explore an ascetic world where the line between nature and humanity is blurred.
His work balances between unrest and serenity – without ever tilting overwhelmingly in either direction.

Born in Espoo, Finland, Nevalainen now resides and paints out of his studio in Porvoo, roughly an hour east of Helsinki.
Over the course of a decade, he has forged a reputation as one of the most exciting contemporary Nordic painters of his generation.

In 2016, Nevalainen was named Finland's Young Artist of the Year and he's had solo exhibitions in both Japan, the US and across his home country.
A two-year-stint in Kyoto, Japan from 2011 to 2013 fueled his mind with both energy and images that still seep into some of his paintings today.

His work is featured in some of Finland's leading art collections and his current solo exhibition, "Syncope" will be on display at Galerie Forsblom in Helsinki throughout the spring of this year. It follows his Stockholm-exhibition from 2018, "Heartlands".

We reached out to Reima Nevalainen to learn more about his past, creative development and why he would prefer having his studio at the bottom of the sea.
You were born in Espoo, just outside of Helsinki, but moved to the quiet town of Kuhmoinen, embedded in the Finnish heartland, at the age of ten. What were your early years like?
– I look back on my childhood with great nostalgia. The 80's and 90's in southern Finland, and later, rural central Finland both seem like a beautiful, clean paradise to me now. 
My home was always a warm haven where adventures were encouraged. It was also a religious home, exposing me to both dark and bright visions of the world. But after the friction of growing up and finding my own way, I see that part in my past as an important ingredient for the eventual outcome, and I wouldn't have it any other way. I was a quiet, only child who spent a lot of time in imaginary worlds or climbing trees. Like many kids back then, we traveled in our heads without moving.
Can you remember when you first realized you were drawn to the arts?
– I wish I could. I wish everything was well documented and known to me. But all I have is a hazy memory of always having a strong tendency towards visual arts rather than other ways of communicating or expressing myself. I was never good at sports or music, nor did written text give me any satisfaction. Of course, many cataclysms and evolutions were needed to get here, but the simple need to make an image by hand is traceable all the way to my roots. 
My whole artistic career is simply a continuum of those childhood sensations of wonder, danger and revelations, both light and dark. And that's the way I want it to be, one lifelong naturally evolving family tree of images. Although my paintings have a serious tone, I associate painting with the same kind of play with imagination we exercise as children.
"I feel I would have never learned how to paint if I didn't have that clarity in my head that can only come through solitude."
Being the only child, did that make it easier for you to sink deeper into your art, without any siblings running around the house?
– That's probably right. I think I would be a totally different person if I had siblings, if there was someone else around, as we are nothing but our past and our surroundings. I do sometimes wish I was more outgoing and relaxed around strangers, but that's the price you pay for becoming a painter. I often wish I had my studio in a bunker underground or at the bottom of the sea, because my work is all about concentration. It feels like I'm trying to hit the bull's eye with an arrow every time I'm working. That makes for intense paintings but also a nerve wracking way of life. I feel I would have never learned how to paint if I didn't have that clarity in my head that can only be attained through solitude. That's also a matter of taste as I tend to like works of other artists where I see that pursuit for rigorous concentration. 
Though these days the trend seems to be the opposite, contemporary painting comes off as too noisy and hasty for me.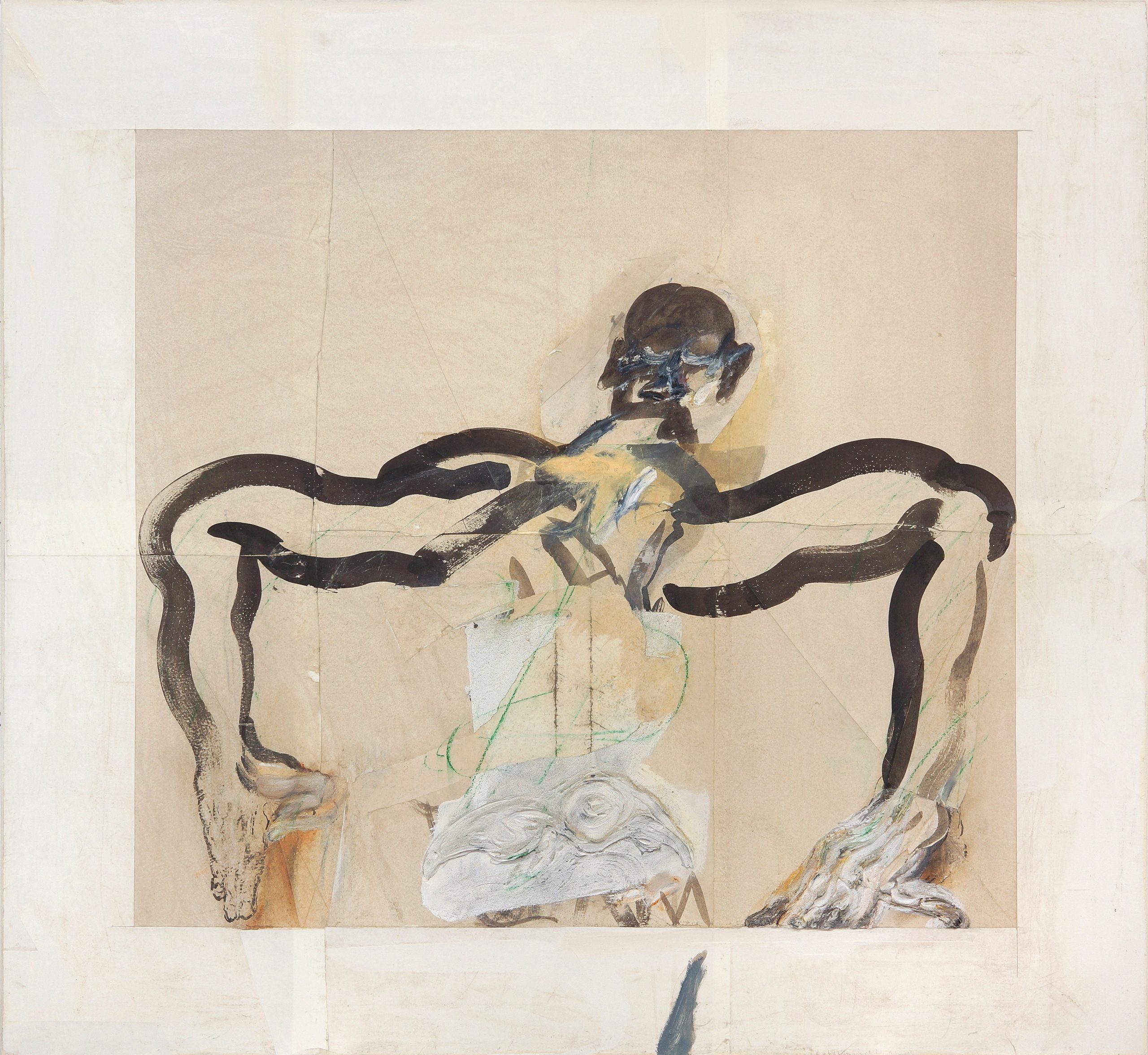 "The contemporary art world seems like a world of spectacle and I'd like to be in direct opposition to that when it comes to my work."
On the topic of subject matter in your work;
where do you usually draw inspiration from?
– My work is self-sustaining in a way. I always have an idea for the next painting while I'm finishing the work at hand. And it's often sprouting from the current work, but not in a clearly visible way as I usually want to do something contrasting to refresh my mind. The ideal situation is when I'm in the thick of it and the landscape I've created blends in with reality, so that I'm not sure whether my inspiration came from my own work or the outside world. It's the same child in me, again walking away into the quiet image. Painting is a demanding activity but very rewarding when that immersion happens.
 
– I don't use reference images, so everything has to come from memory. That's why impressions of very mundane things become important. There are many things that stick to my mind and make strong impressions, not just visible but other sensory impressions too. For example: I often consider my paintings as food and I eat other painters' work through my eyes. You see, it's important how the color feels between my teeth. For me the concrete, perceptible world is the real mystery and I wish to steer the viewer's concentration towards that way of thinking. To look at the simple, humble things and slowly forget what you know. The greatest gift painting has given me is the ability to see that everything is abstract and nameless in a sense. It's only us humans who tricked ourselves into seeing forms in the clouds.
Is there a recurring theme that you keep coming back to?
– I think that I have different lines of work that grow simultaneously. I don't make certain themed exhibitions, rather exhibitions are cuts into my work that continues, nevertheless. To me, working means examining something with dedication. That means that my work has a core which the paintings constantly revolve around. That core consists of themes such as the mystery of the material world, the perception of it and our part in the natural cycle. I'm creating my own landscape. It's a timeless, ascetic landscape. I'm using the word "landscape" for the reality of images that consists of different subject matters, but mainly of the human figure.
 
– A subject I keep coming back to is the face. It's not just that I need to paint something like faces to make it visible, but rather to empty it. So, it feels like something I've done before many times, but want to continue examining again and again. The same goes for other subject matters. I need to exhaust the idea and myself in the process. But my mind is of the sort that likes to move on only when one thing is completely finished. Trying to reach a level of satisfaction in a painting in order to move on is quite impossible. 
I keep spinning, falling down the rabbit hole that I created for myself.
In 2016 you won the prestigious award for Young Artist of The Year in Finland; what did that accolade mean to you?
– It certainly was a great encouragement for the future and acknowledgement of the work done up to that point. It meant more visibility in Finland too, but I'd rather have the work get more of the attention than me personally, so it also meant sort of laying low for that to happen. A "Don't look at the pointing finger" kind of feeling.
You spent two years living in Japan in the middle of the last decade, can you describe what that experience meant to you and your work?
–This is a topic I feel like I could talk endlessly about, but when asked I don't know where to even begin. It was crucial for me and my work. It was an opportunity to concentrate more on the input than the output, although I kept myself busy every day with photography and drawing. The years following my time in Japan have been the other way around. I try to pour out as much as I can, and it feels great to be completely drained after a long day of work, but it's happening without much input.

– My time in Japan was a peek into a different dimension, where a different me still lives. I've been feeling out of place ever since, like after seeing behind a hidden veil, something that shouldn't be possible. Life there consisted of haunting beauty, and still comes through in my work. There's something in the soil of that country, and Kyoto especially, that is very nutritious to me. I'm glad I got the chance to absorb some of that and make some amazing lifelong friends as well.

– I made a drawing series while in Japan which later became a book
called 'Drawing a Day'. 
It's a series of 365 drawings, one per day for a whole year. I consider it the most important of my works as it has a special emotional value to me. I also got into photography while there and I hope someday to make something out of the photos I took there. 
There's a lot of material, and I'm still going through it today, after seven years, as my little side project when I'm not painting.
How much of your Finnish heritage would you say comes through in your work?
– I don't feel like I'm a "Finnish painter" but I do feel it would be a shame if my paintings fell too nicely in line with the global contemporary art scene, where things often look the same but try to stand out by being louder. The contemporary art world seems like a world of spectacle and I'd like to be in direct opposition to that when it comes to my work. I'd rather make paintings that don't look for attention but are intense when you take a closer look and quiet down. Maybe that's the Finnish side of it.

For more please visit: www.reimanevalainen.com

www.galerieforsblom.com/exhibitions/reima-nevalainen5

reimanevalainen.blogspot.com/