HIROSHI UEHARA

,

Pro BMX-Rider/Designer/Entreprenuer
Interview, 3 March 2017
As an award winning BMX-pioneer, clothing designer, entrepreneur and event organizer from Tokyo, Japan – Hiroshi Uehara is a busy man. When not working and scurrying through the busy streets of Harajuku, Tokyo's prime fashion district, he is traveling the world in search of new friends and inspiration.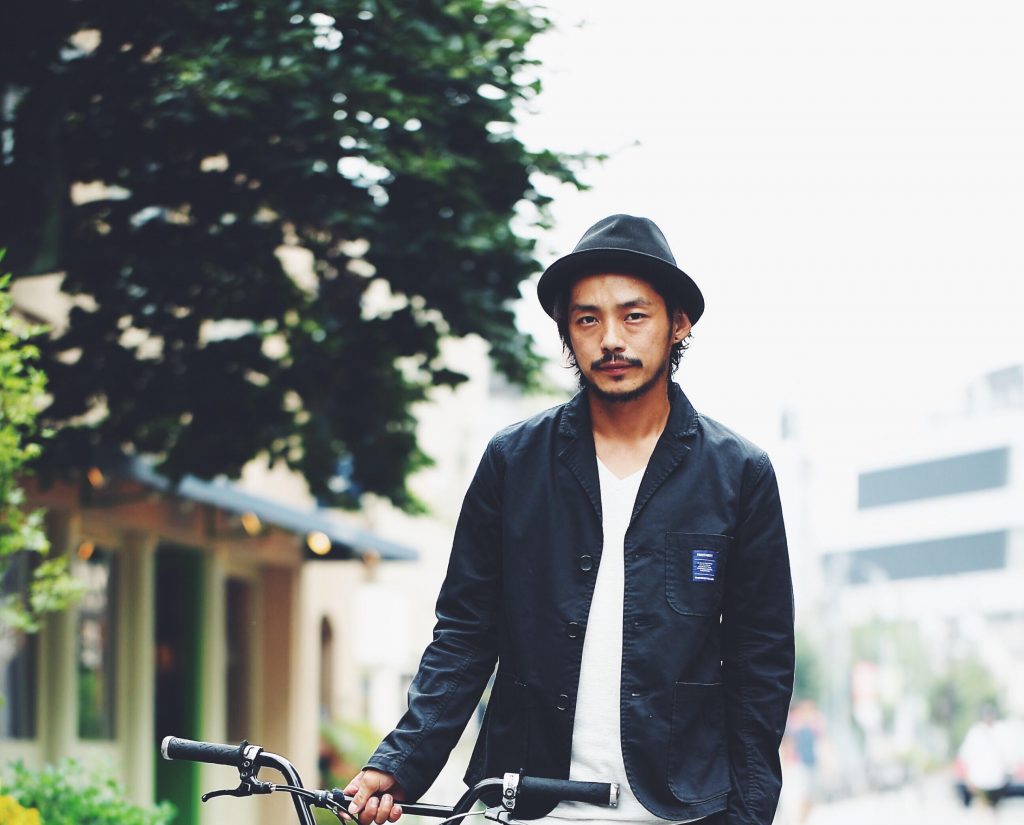 Ever since discovering his passion for the BMX more than 25 years ago, Hiroshi Uehara has built a solid career for himself on the world stage. Participating in the ESPN X-Games and the BMX Flatland World Circuit, initially as a competitor and more recently as a main judge, Uehara is a well-respected player on the global BMX-scene as well as having served as an ambassador for the sport in his native Japan, where the number of practitioners have spiked in recent years.

Born in 1977 in the denim mecca of Okayama in the southern parts of Japan, Hiroshi Uehara got an early induction into the clothing industry where he worked different jobs learning the trade. During the 1990's, his frustration with the lack of functional garments to wear while riding the BMX prompted him to launch his own clothing line, called Fourthirty (a nod to the date, April 30th, when it was founded). The label consists of a selection of well made and carefully designed garments that aim to be worn by both BMX riders and people who seek great looking street-wear with high functionality and quality.

Today, Uehara owns and manages three stores nationwide called Decade, that not only carry his own label but stuff he envisions people should look for when trying to look the part in the hip, urban areas around Shibuya, Tokyo.

When not designing clothes, managing his company or riding his beloved BMX, Hiroshi organizes events for major international brands looking to utilize his deep knowledge of street culture and the youth scene in Tokyo. But most of all his time is spent hanging out with friends, who he claims are the main source of inspiration for his creative output. We caught up with the fascinating creative force that is Hiroshi Uehara to hear what his views are on Japanese urban culture, landing flatland tricks on his BMX and what international brands need to consider when trying their wings in the lucrative but razor sharp environment that is the Japanese fashion market.
– Hiroshi, thanks for taking the time to speak with us. Can you remember when you first discovered the BMX?
– I went to study in Australia almost 25 years ago and a member of my host family rode a BMX. He was actually a surfer, but could also ride ramps. It was the first time I found out what a BMX was and that it was considered an actual sport.
– What is the difference between street-BMX and flatland BMX? I've heard that flatland requires a great deal of focus and practicing.
– Both types of BMXs have 20-inch wheels but the settings of the two have become closer as of late, at least to my eyes. Take Matthias Dandois for example, a 3-time BMX Flatland World Circuit Champion, who can also ride street BMX at a very high level. Nigel Sylvester is another example, one of the true icons of street BMX. He does some Flatland tricks while riding as well so I guess the two styles blend together in many ways.

– In terms of the pursuit of becoming a great rider, both categories require the same amount of effort and above all – that you really immerse yourself in riding your bike, because otherwise you'll never get there.
"It's really all about the effort you put in. The rest will come if you stay committed."
– You are very much responsible for making the sport grow in Japan in recent years; does it make you proud seeing so many kids being involved in the Japanese BMX-scene today?
– Although I've never thought of myself as having contributed enough, the fact that more and more Japanese kids are getting involved is key to the growth of the scene and I'm really stoked about that.
– Please tell us about how you launched your own brand, Fourthirty.
– It was quite simple actually. I started Fourthirty because I wasn't content with any of the other brands that existed on the scene at the time.
– What would you say are the most important things to consider when launching and running a clothing brand from scratch?
– Whenever I'm asked this question, my answer is always this: "Never give up". All you need is a very strong commitment. Nobody can design a clothing line that every single customer will buy. And vice versa, there are no clothing lines that no one will buy, so it's really all about the effort you put in. The rest will come if you stay committed.
– You have a few of your own stores around Japan now; can you tell us how you have built your team around 430?
– People who were attracted to Fourthirty spontaneously came together and eventually became our members. I see more value in that. As of late, it has evolved into a real business so I've been more focused on learning what business is really about. Of course it's not all about money, but the truth is that money is essential in order to keep the business running.
– You obviously know your way around Tokyo; in what way is the city a good environment for being in this business?
– I honestly don't know the answer to that question. If I had the answer I would be living in Roppongi Hills! (Roppongi Hills is one of the wealthier areas of Tokyo)
But seriously, if you have love for what you do, you should definitely always follow your heart.
"The Japanese are generally attracted to simple yet carefully designed products. Especially in terms of trendy products, Japanese consumers are always paying close attention to the stories behind the brands."
– The Japanese are known for their great taste and sense of style; what would you say are the most important things for foreign brands to consider when trying to break into the Japanese market?
– I'm really proud to hear you say that. The Japanese are generally attracted to simple yet carefully designed products. Especially in terms of trendy products, Japanese consumers are always paying close attention to the stories behind the brands. With that said, finding local partners capable of marketing effectively is crucial in order to penetrate this market. I assume the same strategy could be applied to other Asian markets as well, such as China or Korea.
– What inspires you when you design your collections?
– My inspiration always comes from traveling and my friends.
– How much time is left for riding the BMX these days, do you have to fight to set aside time for it?
– Yeah, lately my schedule has definitely been pretty busy, but I always have time in the morning around like 6 or 7 o'clock and I try to use my bike as much as I can for domestic trips. The BMX is my buddy so I always try to set aside time for riding it. This little buddy of mine has given me opportunities to get exposed to the world and brought me many interesting encounters. My hope is to ride it until the day I die…


For more please visit:
www.decadeshop.com